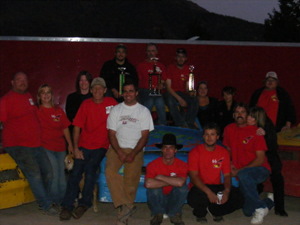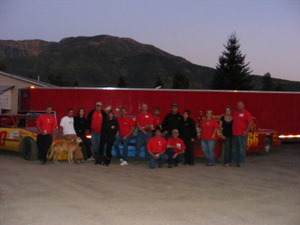 2008 Red Rabbit Race Team
Rocky Mountain Raceway- October 4, 2008
Bridge County Raceway - September 27, 2008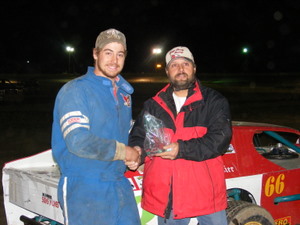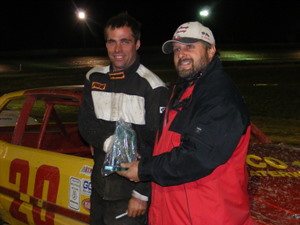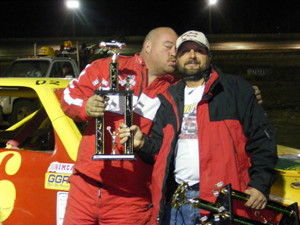 Tonight, BCR held their season ender and awards night. Red Rabbit Race Team brought home some awesome hardware with their trophies. Rick finished 2nd overall for the year. Cliff was named "Most Improved Driver" and Don was named "Most Sportsmanlike Driver".... Way to go team!!! Ricky Bobby put his #66 into the winners circle tonight doing an awesome job on the dirt. Cliff brought the new IMCA Modified out for the first time since the guys bought it in July. He did great finishing 9th out of 21 cars.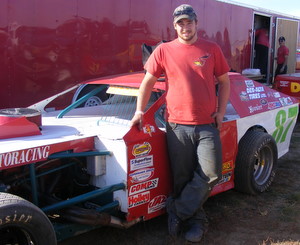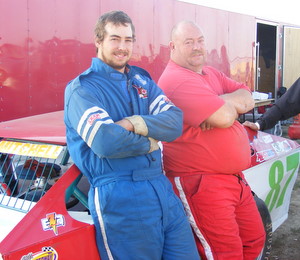 IMCA Supernationals 2008
Race City Motorsports Park
Calgary, Alberta - Sept 19 - 20, 2008
Well this weekend was what could very well be the last time we race at Race City Motorsports Park as the track is in turmoil and may be shutting down. We all got emails on Tuesday informing us that the Supernationals were cancelled, but that the track could still be rented for events. Thanks to Trevor Boys and his race team Boys Will Be Boys Racing who went to work getting sponsors and renting the track we were able to pull it off. Friday was a beautiful day. Cliff got a pleasant surprise when he opened the program and it was posted that he had been named 2008 IMCA Stocks Rookie of the Year..... only to be followed shortly by disappointment when he blew his engine in practice and was unable to race that night. The Red Rabbit Team pulled the engine out at the track and first thing Saturday morning they put a borrowed engine in so that he could race that night. Don and his #20 had problems with his oil pressure and finished at the rear of the pack, but still on the lead lap on Friday. Saturday got a little exciting when he ran into the side of the already spun out #54 truck of Dale Cornellson, it was unavoidable and after a quick run into the pits where the crew fixed up his front end, he got back out without losing a lap. Once again he finished on the lead lap. Rod Talbot blew up his engine on Saturday night after helping the #66 of Ricky Bobby win the Main Event on Friday night, but hopefully he will have his #52 car back out for the 2009 IMCA season. Rick qualified badly and started near the front, he got passed early by the #45 of Kel Rudy. Rick got back by him on the back stretch when Kel got on the bumper of Munroe Savage #88 and Rod Talbot #52, Munroe slowed down and Rick got behind Rod and made a very exciting pass when he got by all 3 of them, and even tho Rudy tried to spin out the Red Rabbit he won the main event. Saturday after some hard racing with Robby "Fudd" Ford, who broke his transmission and did not start the main, Rick clinched the 2008 Canadian IMCA Championship.
Medicine Hat Speedway - September 6, 2008
Medicine Hat Speedway held their final race of the season tonight complete with a potluck BBQ after the races. The rain threatened all night but held off(barely) until after the races. The Legends joined the IMCA Stocks and the local classes for the year end. Marty didn't get to race this weekend due to the #20/28 engine was put into the #66 as Rick is leading the Canadian Championship points by only a couple over #7 Robbie "Fudd" Ford and can't afford to miss a race. Cliff and his #87 had a great finish in the main at 2nd place. Rick #66 finished 4th in the main, but ended up 1st place over night due to his good qualifying and heat races. Good job guys!!!
Race City Motorsports Park, Calgary - August 9, 2008
Well.... Ends up the #66 had more damage from the Wolff Pack Run than we first thought. The engine let go during second practice session before qualifying.
I want to thank Donnie for giving up his ride (#20) so that I could go out and get some points. Even though I didn't finish a race, hopefully I maintained the Canadian IMCA points lead.

I qualified slowest in the field, but we had 2 broken rocker studs. After lots of work, we started the Main Event running well. In the early laps, Dale #54, broke hs axle and I ran into him breaking my axle and trailing arm.
We were trying hard to stay on the lead lap as we were going to claim #88 and #99 engines but after I broke, Cliff spun out and because neither one of us brought out a caution, he ended up a lap down. Rules state that you must be on the lead lap to claim an engine at the end of the race, so the guys lucked out this time.
Too bad Monroe #88 has got to have a great engine as he came from the back to leading the race in 2 or 3 laps and ran away from the rest of the pack.
Wolff Pack Run 2008
Bridge County Raceway - August 2-3, 2008



Cliff put his WOLSELEY Waterworks Chevy Monte Carlo in the winners circle Saturday night winning his first IMCA Main Event on the first night of Jaron Wolff's Wolff Pack Run... Way to go Son!!!!! Unfortunatley our videographer had technical problems and missed the race, so if ANYBODY out there has any pictures from this night... please let me know... Thank you!!!

It was a perfect weekend for racing, the track was worked up great and when it went "dry slick" there was little dust. It was rough but not rutted. On Sunday we got 3 hours of rain during the day and the track looked awesome but wet. The Wolff Pack Run was great.

On Saturday, Mike Elmer #45, and Roy Woodske #33 were on the track for the first time. The did a good job, never got in the way and no spin outs (common mistakes by rookies). Good job guys!!! Mike ended up finishing the main event early when he caught on fire, he had already passed me once, but after the fire I was able to get up and finish 3rd in the Main Event. Cliff #87, got up front and never made a mistake. Calvin was all over him and could not get by.
Great job Cliff on your first IMCA win!!!

On Sunday, Mike and Dale both blew up their engines. The #66 engine had problems as well in the Main Event. It ended up that we had 2 valve springs broken. Calvin #11, won all day and won the overall 2 day Wolff Pack Run. I finished 2nd overall and Cliff finished 3rd overall after an electrical fire took him out of the Main Event on Sunday.

There was an awesome pig roast with a great band and we partied all night long.
Had a little issue with Keith, the IMCA Tech Director.... me on a quad trying to help him out of a predicament... kinda broke his hood....OOPS!!!
All is fun til someone loses a hood... Right Keith??? Sorry Buddy!!!!
Bridge County Raceway - July 26, 2008
Lethbridge was good to us tonight, I finished second in all the races and won the high point for the day. Donnie was awesome leading most of the race until Calvin passed him then I got by and Kelly got by. When Don tried to take back third he hit the wall and blew a tire but he still finished fourth... good job Donnie. Cliff had trouble he got black flagged for spinning Calvin and then Rod went into the pits and came back and took the spot in front of Cliff With a burnt off spark plug wire Cliff could not get passed anyone and finished in the rear. He had a few run-ins with Rod early in the day with Rod hitting him three times down the straight and giving him a flat tire. The next race Rod tried to hit him again but missed and ran into me. I saved it and pushed Cliff passed him so he couldn't get us again. They got a good feud going and a close battle for rookie of the year. Go get him Cliff!!! Next weekend is the Wolff Pack Run in Lethbridge at Bridge County Raceway, a two day show in which I will be defending my "Alpha Male" title. We have Mike Elmer coming out as well as Roy Woodsky and Jordan Talbot possibly It should be a great weekend.
Medicine Hat - July 19, 2008
Medicine Hat is still not good to us I qualified bad again Marty had engine troubles and we ended up with our worst finish ever...all three of us were in the rear of the field. Cliff finished fifth and he was right on the bumper of the 4th place car.
---
Bridge County Raceway - July 12, 2008
Lethbridge Bridge County Raceway was rough this week and the racing was rough as well. The heat races were slippery and I could not get passed the #69 JR Zillman. Rod #52 was real loose and all over the track but in heat 2 he got better and was good in the main till he spun out, hows the water Rod?? Cliff lead the race for 19 laps til Calvin #11 passed him. "Pinball" Kelly #99 pushed me into the infield and I ended up hitting all the "track nuns' Even the one with the cone on it. Sorry Kathy!! The flagger said it was a racing incident so we got our spots back. Then #99 got behind Cliff and tried to spin him out... Being the loyal team member that I am I got up underneath #99 and spun him into the infield. It cost me a new front end for the truck and sent to the back but it gave Cliff sometime to work on Calvin. The race ended with three green, white, checkers attempts and on the last one Cliff broke a shock and two cars got by him. Kelly #99 got disqualified after tech so Cliff ended up 3rd. Good job buddy...
Medicine Hat - July 5, 2008
Medicine Hat was not very fun for us this week. The sponsor had a prize pack for the best qualifier and I blew it. I qualified last. I finished second in the first heat race and then in heat two I ruined a brand new tire by pushing too hard and Cliff had to come to the pits because of a tranny leak. Marty started out good in the main, he led a lot of it and then got shoved out and finished 4th. Cliff passed me early and finished 5th and after getting spun out on lap 5 from Kelly Jones, I finished 6th. We rented transponders for the lap counters and they work cool you can go on line and see each lap time etc.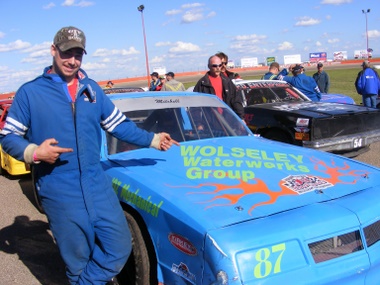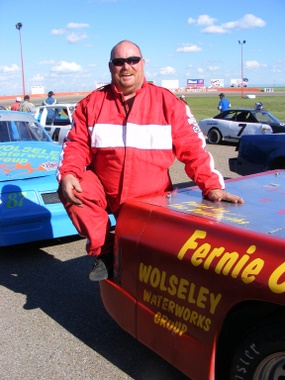 Calgary - June 25 & 26, 2008
IMCA Schools Out Special Event
Rick, Cliff and Don all had a decent run on Friday night, while Rod had his work cut out for him when he blew his engine in the Main event Friday night. In order to compete on Saturday he and his crew drove back to Kimberley, got another engine... put it in and made it back to race on Saturday. Saturday, Rick put his Alpine Trails Dodge pick-up in the winners circle, stating that it was the hardest he has ever had to work for a win. He won the 1st Heat race, took 2nd in the second heat race and won the Main Event, it was a very exciting race. The most damage of the weekend to Rick's truck was done during the burnout!!! I had a guy come to the fence and offer me $50 to do a "donut"....(Little does he know that NOBODY needs to offer Ricky Bobby money to do a burn out!!! He lives for them!!! Don drove his EMCO 100 Monte Carlo to a personal best finish of 4th place and after having a good night on Friday, Cliff and his WOLSELEY WATERWORKS Group Monte Carlo didn't get past qualifying on Saturday as he blew his transmission on his first of qualifying lap. Rod finished an impressive 5th in his Jorsh Logistics Monte Carlo.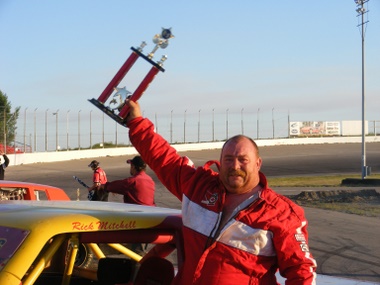 Medicine Hat
June 14, 2008
I want to start this entry by thanking Marty Garrett for stepping in and driving the #28 (normally #20) for us this weekend. With Don not being able to drive, it was nice to be able to still get the EMCO 100 Monte Carlo out on the track. Still having a few issues with it, but I do believe that we are making progress as Marty was keeping up and even led a few laps in the 2nd heat race.

Now....after tying with the #6 of Rick Jondreau for the top qualifying position I do believe that we may have the Alpine Trails Dodge set up right for the Medicine Hat track. Cliff qualified 3rd in the WOLSELEY Waterworks Group Monte Carlo. Marty qualified 8th.

I do believe the 1st heat race went quite well with no wrecks and most drivers keeping happy.

The 2nd heat race was not one that I am real proud of. I pride myself on going out and racing hard to win, as I love to race. I got chopped off on the front stretch when the #52 slammed me into the #6 this causing both of the fast qualifiers to be out of contention for the win. I got upset as it seemed as though both the #45 and the #52 were just not satisfied with sharing the track. I went and slammed right back into the #52, let me tell you all... it doesn't pay to get mad and try to get even on the race track, I wrecked my truck. I want to apologize to Rod for losing my temper. The front bumper went flying off and this is when Cliff lost a couple of track positions in his #87. The flagman threw a yellow which Cliff saw and then slowed right down, only to have 2 cars fly by him (unknowingly the flagman cancelled the caution after the light was out of sight for Cliff). Marty did awesome in this race staying out of trouble (and trust me.....it looked as though trouble was looking for him a few times!!!)

The main event was 30 laps tonight and it was 30 laps of total CHAOS!!! #52 cut off Marty in turn one right at the start of the race which almost collected the #77. Luckily all 3 were able to start again but due to track error (should have been a complete restart) the race was re-started in single file with Rod and Marty being put to the back. Rod raced a good main event and finished 2nd... Good job Rod.

Cliff had transmission problems once again today and had to pull off the track taking him out of contention to take the checkers tonight. I had a few issues in this race, I ended up with a "pass through" penalty for going into the dirt and was a lap down, for this reason I am confused as to why the #45 tried racing me into turn 1 on the last lap and ended up spinning himself out... I did have to laugh and if anybody could have heard me over the roar of the cars, I yelled out "Race your own car Sucka!!!"

Not so easy to "Kill the Rabbit" now is it Kel???

I am working on getting the race results to post on here and as I do I will get them on.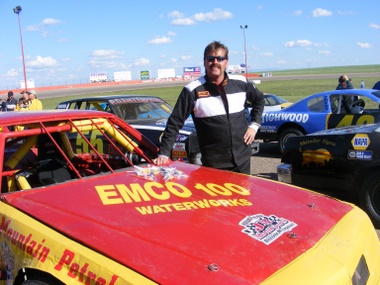 June 7, 2008
Rained out in Lethbridge.... But the Red Rabbit has shaved!!! I know.... I know... I usually don't shave it off until I win my first main event of the year.... Thanks to the rain-outs this year... things changed a little bit.... 2008 is the year I shaved for my daughter....Not sure if ya know or not, but Lacey is battling Thyroid Cancer and the girls put a team in the local Relay for Life fundraiser today.... They raised $2613.64 before the event started... and Jeri started raising more at the Relay so that I would shave. I told her that if they could make it $3000 that their team "Tika's Track Stars" raised in total that they could have me shaved.... Well... it sure didn't take them long!!! Dad went out and got $220 with little effort and the team raised another $395.50 for a total of $615.50 that they raised in 2 hours.... Cliff had said that if we raised $500 he would shave... JD stepped up and shaved for the cause... as did Parker, telling Lacey that he did it for her. Thanks guys!!!! Over all the Elk Valley Relay for Life raised over $108,000... way over the goal of $75,000. AWESOME!!!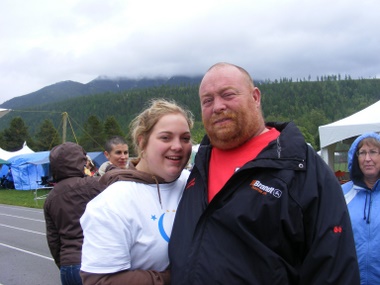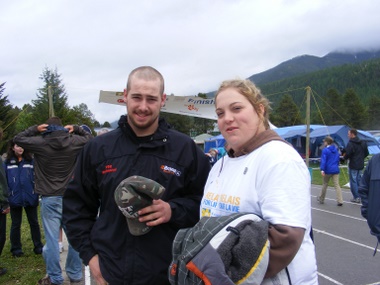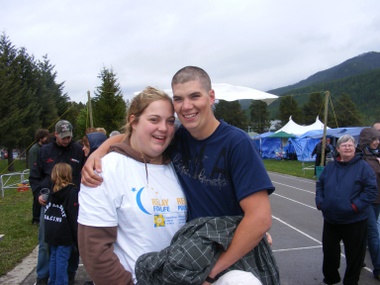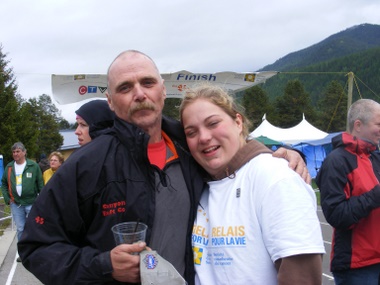 May 24, 2008
Rained out in Calgary....
May 17, 2008
Medicine Hat Speedway
Our first trip to Medicine Hat proved to be a learning experience. We did not know their practice schedule and showed up late. Cliff and I got a few laps practice but Donnie was having problems getting his #20 to run and didn't get any hot lapping in. The Red Rabbit Pit Crew jumped into action (as they always do) and got Donnie's car running just in time to qualify. We all qualified terrible. Cliff was running very well and finished 2nd in the first heat race, way ahead of Donnie and I. He finished ahead of us again in the 2nd heat race finishing 3rd. My #66 was having problems as I lost the clutch and had to be push started (Thank's guys!!!) We were setting up the #66 wrong all night, but thanks to Laurence Krogstad and his book of racing (not to mention his overall knowledge and years of experience) we reversed all of the adjustments we made throughout the night and started the main event running great! I moved all the way up to the front of the pack and raced hard to stay there. I was slowly pushed back to a 4th place finish as my tires had just gone away and had no grip left. Cliff lost the fluid in his transmission and went off the track in a cloud of smoke with about 10 laps left in the 50 lap main event, disappointing ending to what started out a great night for Cliff. Donnie brought out the only caution in the IMCA Stock 50 Lap Main Event when he spun in turn 2. The only body damage that we came home with was off of the #52 car. He raced hard with all 3 of us and we rubbed in one way or another. Calgary was rained out this past weekend, not sure if it will be re-scheduled yet or not. Next race…….Bridge County Raceway in Lethbridge on June 7.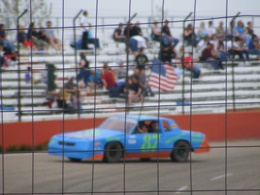 <-- Makin Mom proud!!!



May 3, 2008
Bridge County Raceway
The '08 season has begun with the Bridge County Raceway's season opener on dirt in Lethbridge, Alberta. The track dried out quickly and so "mud pack" was cancelled. So the first time Cliff or Don were actually on the track was for the 1st heat race. It was muddy and slow and Cliff got spun out, luckily his #87 only recieved some body damage to the rear bumper. The 2nd heat race ended with #52 Rod Talbot winning his first IMCA race on his first day on the track. Good job Rod!! The Main Event started with Donnie on the front row, Cliff and Calvin Fitch #11 in the second row and I was in the second to the back row. There was some bumping and grinding in the pack and Calvin got out front and by the time I got through he had a 1/2 lap lead. I finished 2nd and Cliff finished 3rd. Good going Cliff. Donnie finished with no damage, so all in all it was a good. Next race, Medicine Hat, Alberta on May 17th.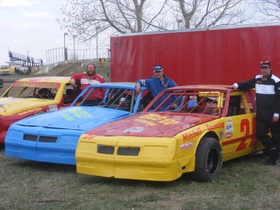 Well a new season is coming quick. We have been working on a car for Don Elmer last years crewchief who will do the driving of a 1980 pontiac with a monte carlo body,a 350 chev engine and a four speed transmission. We have replaced the front firewall and made adjustable trailing arm mounts, as well as a cross brace and a safer cockpit. Cliff Mitchell will also be racing all season in his old #77 car with some work and will be the #87 this year in the IMCA Stock class.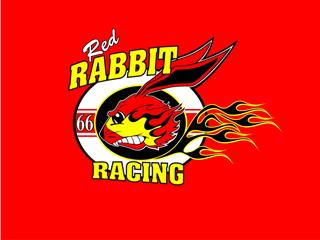 MEET OUR DRIVERS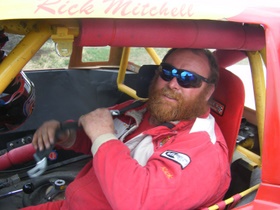 Rick Mitchell will be driving the 2006 Dodge Ram sponsored by Fernie Chrysler, Alpine Trails, Brandt Tractor, Mountain Petroleum Esso, and more to be announced.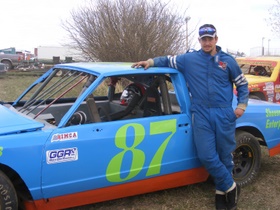 Cliff Mitchell will be driving the #87 again this year with his first chassis, the one that he hit the wall at Race City in Calgary in 2006 in. We repaired it and put a 1984 Monte Carlo body on it with a 350 engine and a 350 automatic transmission.
Cliff turns 19 this year and hopes to win the Calgary race coming up close to his birthday. He is going to race "dirt" this season in Lethbridge at Bridge County Raceway. He hopes he has better luck this time. We hope so too as he was hard on body parts when we raced at RMRP in Highriver.
Cliff raced the #66 Hobby Stock car last season in Cranbrook when I was racing in Lethbridge and won more races there than I did. He kept us in the top 4 after I blew up 2 engines at the start of the seaon. He also raced at Calgary in the Wolffe Pack Run and had a pretty good weekend in Mike Elmer's car even with a lot of troubles. At the end of the IMCA season Cliff raced the final race day in the new car that Don Elmer is driving this year. Cliff raced very hard and even lead a few laps and finished in the top 10 for the day. His sponsors this year are Wolseley Waterworks Group, WOZ Mechanical, East Kootenay Land Corporation, Mitchell Excavating and more to be announced at a special time.
Good luck Cliff from your team mates at Red Rabbit Racing.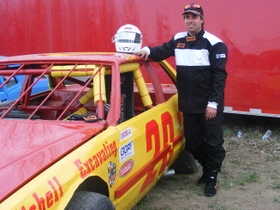 Don Elmer will be driving the #20 Chev Monte Carlo sponsored by EMCO Water Works, Alpine Trails, Mitchell Excavating. Donnie has been our crew chief, a job that he has done quite well and now he will drive for the full season. He will have a very good car that we worked on all winter, so I hope he will be able to race me for a win at some point this year. He will have to watch for Cliff and Mike Elmer (Don's brother) as he will be making some of the races and he always drives for the win.