2010 Canadian I.M.C.A. Stock Car Schedule
May 08....SNOWED OUT....Medicine Hat Speedway *SEASON OPENER*
May 15..........................Medicine Hat Speedway *SEASON OPENER*
May 22..........................Medicine Hat Speedway
May 23...RAINED/FROZE OUT..Bridge County Raceway,Lethbridge
June 5..........................Medicine Hat Speedway
June 12..........................Bridge County Raceway
June 19...FLOODED OUT..Medicine Hat Speedway
July 3........RAIN DATE.....Medicine Hat Speedway
July 10..........................Medicine Hat Speedway
July 17..........................Bridge County Raceway
July 18..........................Drumheller, Alberta
July 24..........................Medicine Hat Speedway
Aug 14..........................Bridge County Raceway
Aug 21..........................Bridge County Raceway
Aug 29..........................Drumheller
Sept 4..........................Drumheller
Sept 5..........................Drumheller
Sept 11..........................Medicine Hat Speedway
Sept 18..........................Bridge County Raceway
Sept 25..........................Bridge County Raceway
2010 I.M.C.A. Modified Schedule to follow
Cliff has chosen to only race his #87 IMCA Modified Car this year but will help Rick out with the Stock car whenever he can. I will put in the Modified schedule very soon...
Medicine Hat Speedway…….May 15, 2010
It was great to see some new fans at the track tonight. Hope you enjoyed yourselves Rick & Val, sorry we didn't have a better finish for your first IMCA event… Will do better next time!!!!
After my experience racing in Medicine Hat tonight… I have come to the conclusion that Cliff & Shabreena have one heck of an idea!!! (You know what I am talking about guys!!!)
But that is not MY idea of being a racer…. We need to overcome that tracks that give us grief… The car drove like a piece of crap. My first 2 laps of the day were my fastest…. I qualified 3rd behino Jessie #17 and Rick #6.
I finished 5th in the first heat. Then it seems that the night went to Hell in a hand basket. In the 2nd heat I could not get any traction and burnt off my rear tires, ended up finishing last in the 2nd heat.
With help from the IMCA Tech crew we got the car more balanced and things were looking a liitle more promising for the Main Event. I started on the pole, and after leading the first 4 laps, I started losing my grip once again. Looks like a few long nights in the shop this week to try and get the car ready for next week as we are back in the Hat on Saturday night and at Bridge |County Raceway in Lethbridge on Sunday night.
It was a little rough seeing thru the tears in my eyes during the Main event, as |De Matthews found out that I was racing in memory of our friend Larry "Bones" Hoath tonight. She arranged to have the IMCA Stock Main Event dedicated to his memory and even coordinated a missing man formation lap for him. T|hank you De, this meant a lot to the whole Red |Rabbit Racing Team.
Wish us luck for next week!!!
Medicine Hat Speedway...... May 23, 2010
I know there is a reason we don't like coming to Medicine Hat to race!!!! It certainly isn't because we don't like the people here…. But we sure do NOT have much luck here!
Qualified fastest because I figure that anyone who ties in their qualifying times should be disqualified and since there were two 18.00 and two 18:03... I had my fastest time ever at this track at 18.17... So in my eyes… I got fast time!!!!! ;)
In the first heat race I got tagged going into turn 1 by the number 17 of Jessie Fitzpatrick, ended up nearly losing my fender and had to pull off of the track with 2 laps remaining.
In the second heat I started on the pole and I started out well…. The car developed a "push" and didn't finish nearly as well as I started. I finished 7th.
The main event, I was once again in the Pole Position…. The "rookie" in the group this year Ray and his #9 and I started out racing hard and fast right from the get-go. While I slowly lost my handling, He ended up walking away from the pack and taking his first ever win!!! Good job Ray!!! As for the Red Rabbit, I started out well, and stayed up front for the first 8 laps, but then I started having trouble, slowly slipping to the back of the field. Looks like we have engine issues….possibly the main bearings.
It would appear that I have been living up to the "Ricky Bobby" name…."If you're not 1st your last" Although I have finished last in 5 of the last 6 races, we WILL figure out what is ailing the Red Rabbit and get back up where we belong.
We are very happy to welcome a new sponsor. Scarpelli Trucking has come on board this year. Thanks Mike!!!
Next race…..Medicine Hat, June 5.… Question is… Will we be racing the car…. Or will the truck be back???
Medicine Hat Speedway...June 5, 2010
Another trip to Medicine Hat….. We actually got to leave the track with a smile finally. We qualified 3rd fastest. 1st heat race, I got bumped going into the corner and my fender got knocked loose, causing me to have to go in for a pit stop and not getting back out to finish the race. 2nd Heat race was fairly uneventful, I started out front and worked my way to the rear finishing last which was the plan or so we told the announcer. I started in the pole position for the Main Event…but when Ross showed up after changing an engine that he blew up during qualifying I got moved to the outside of the front row. The first 3 cars got by me and I got to the bottom of the track as I listened to my crew. Nobody else could get past me and I finished in the 4th place.
Bridge County Raceway in Lethbridge next Saturday, June 12.
Bridge County Raceway...June 12, 2010
Finally got back to DIRT!!! Took Cliff's old #87 IMCA Stock and made it into a dirt car. It worked very well. I started the first heat race mid-pack and ended up chasing the #6 of Rick Jondreau the last 3 or 4 laps with him winning the race by about a half a car length. 2nd Heat race… I started at the back of the field, and after a couple of multi-car crashes where I ended up getting Jesse's #17 nose stuck in my passenger door and testing our pit crew with an unscheduled pit stop for a flat tire which within a minute they had me back on the track running in last place. After one more caution, we were informed that it would be a green-white-checkered finish, I had moved up to 4th when I saw Wil and his #77 Chevy Pick up start to climb the front stretch wall. From where I was sitting it appeared as though his front end dug in and he flipped the truck twice, right in front of me. The race was then red flagged and called with Ross #14 winning it. With the Medicine Hat drivers taking the Heat races, I still started towards the back of the pack in the Main Event. After a quick caution, I was right at the end of the field. The car worked well on a dry slick track and I was able to work my way through the pack. Working my way thru the pack, I got a little over anxious and when Kel Rudy's #45 came down the track in the middle of the corner I ended up driving right thru him, spinning him a full 360 and he kept right on going, with which I got a black flag warning. Sorry Kel!!! We had a caution with about 5 laps to go, I pulled up beside Robby Ford and his #8 to let him know that I was right behind him. When the green flag dropped we had the near capacity crowd on their feet. Try as I might, I couldn't get the #66 by him. On the last lap, I got very close but remembering Wil's roll over in the previous race, I didn't want to push and backed off relegating myself to a 2nd place finish. So close to getting to shave…. *sigh* Watching the Sprint Cars race proved to be very profitable for 4 of our crew members as they each pitched in to get all 4 colours of the 50/50 tickets When the announcer started calling the number, Cliff called "Blue ticket" announcer called "Blue ticket"..Cliff yelled out 3 ticket down…and started reading off the number… The announcer was echoing him right thru all of the numbers…. With Cliff, Don, Scott and Miranda winning $260 each!!!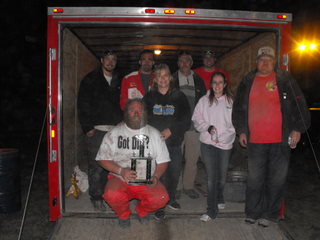 Medicine Hat Speedway...July 3, 2010
Well we got to Medicine Hat and missed out on the practice laps. Rick qualified his #66 last but that meant a "Pole Position" Rick finally got a win at The Hat after leading the whole race which put him at the back of the pack starting the 2nd Heat race. He worked his way up to the 4th position and thought he may just have a chance..... Until the Main Event proved us wrong again.... The handling went aqway and I fell to the back of the pack. Would have finished last but Wil broke and never finished. Thanks Wil.
Then on the way home, the crew (Rick, Darrell, JD, Cliff & Don) decided to try and make a new record with the fuel mileage, I am going on record as being TOTALLY against it!!! Needless to say, we ran out of fuel in Grassy Lake, Alberta.... Keep in mind thaqt this is a Sunday at about 11AM.... Yeah.... Everybody from Grassy Lake was in church!!! Luckily a few of the local boys stopped in and helped us out... only about an hour wait.
Medicine Hat Speedway...July 12, 2010
Decided to bring the Dodge Ram Pick-up to Medicine Hat to see if it has been the car or the driver that is having the problems on this track. Cliff threw the #87 on the car and raced it to help with the car count. Rick qualified 4th and felt pretty good. He got up to 2nd in Heat 1, but then came another tranny leak!!! We tried to fix it, but we a 4th place finish in Heat 2 and alot of complaints about the oil leak, we wrapped it up for the night. Cliff didn't qualify very well so ended up starting up front in Heat 1. He started behind me in Heat 2, but the camera didn't work!!!! ARRRGGGHHHHH!!!! In the Main Event, Cliff raced very well and ended up with a 3rd place finish.... best Main finished for the Red Rabbit Racing Team to date.... Good job Cliff!
Bridge County Raceway...July 17, 2010
Back to dirt we go!! Cliff in the "Dirt" car and Rick in the "Vegas" car. Definitly some good racing and lots of wrecks, but with Cliff leading the day points going into the Main Event, he got "Jacked Up" but #45, Kel Rudy....When his anger got the best of him and he "rammed" him back to get even, he ended up with a flat tire and had to re-start in the back causing him to fall to 3rd overall in IMCA Day Points. Rick finished 3rd in the Main Event, chasing Jessie and Rick.
Dinosaur Downs Speedway, Drumheller, July 18, 2010
We went to a new track today in Drumheller, Alberta. Really scary 1st race... dusty and could not see behind the first two cars, Robbie & Rick. For the 2nd Heat race, Bruce made sure that the duswt was more under control. Cliff got a flat tire and broke his trailing arm while Rick blew up his 327 engine on the last 2 laps of Heat 2. We watched the rest of the races as Jeri was helping out in the tower. Then Cliff, Don, Darryl and Scotty headed home. Rick, Jeri and Taylor decided to stay in Calgary for the night. Did some shopping on Monday and headed home.
Medicine Hat Speedway...July 24, 2010
New tranny in the Dodge Ram... Rick is still having issues with qualifying. Ended up qualifying 6th. He fell right to the back in Heat 1 and then in Heat 2, he started out front but fell back to finish 4th. The crappy Heat race finishes put Rick on the pole for the |Main event... a position he held for 23.5 laps when Jessie passed him going to the white flag... try as he might... he couldn't get the position back.... Rick did get a haircut for the All Nations Optimists Club Childhood Cancer Campaign.... BUT... no shave... Thanks Jessie!
We are very proud to have been apart of the fundraiser tonight tho, there were 9 heads shaved (at last count) and nearly $5000 being raised to help in the kids!!!!
Montana Raceway Park, July 31, 2010
We had the weekend off of IMCA racing, so we decided to head south of the border to Kalispell, MT and see what their raceway had to offer. We spent the week adding a windshield, fire extinguisher and a 500 carburetor. Rick raced the Dodge Ram to a 3rd place finish our of 9 in their Hobby Stock Class.... It was great to see some familiar faces in the crowd. Mom, Dad and Kelly came down from the lake to watch and Elissa, Randy and Reina came out to show their support from Kalispell...\
Great time!!!!!!