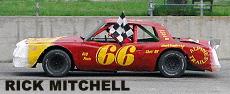 Rick's Bio
Alpine Trails (Great Sponsor) Cranbrook International Speedway NASCAR
I started racing in 1980 with a pontiac that I named the Little Red Rabbit out at Echo Feild in Cranbrook, BC. I raced for about 3 years winning the "roll-over" award. I took a few years off, 20 to be exact, to try some new and different things. I got married to Jeri in 1985, we had a beautiful daughter, Lacey-Lynn in 1987 and a great son, Cliff in 1989. I also took up a new sport in 1989, I started team-roping. We hit competitions in BC, Alberta, Montana and Idaho rodeoing whenever we could. I did quite well finishing 2nd as a heeler in the BCTRA. As much as I enjoyed what I was doing, the racing bug bit again so now here I am in my 4th season out at Cranbrook International Speedway. I bought a 1980 Monte Carlo from a fellow racer in 2001 and started racing again for the 2002 season. I finished 3rd in points in 2002 and 2003, and finished 4th in 2004. I have set my sites for the championship this year and plan on working very hard to get that trophy. Also in 2004 I made my "dirt track" debut at the Rocky Mountain Race Park in Highriver, Alberta. We went to their season finale race, and since they were racing for points I was placed at the back of the pack only to work my way through them and win the main event, and a few more fans. What a blast ! ! ! We will return to RMRP this summer, as we bought a car just for dirt track racing.
MAY 15, 2005
The first race this year at Cranbrook International Speedway turned out to be a huge success for the #66 Red Rabbit. I qualified in the top position and won the main event. Already working towards my goal. MAY 29, 2005 Well the season is now over I won the championship at Cranbrook International Speedway with a close 40 point lead. My crew of Marty Garrett and Gene Stephenson along with Josh Danforth, Rob Waswick and all the others that jumped in to help were the best of the year. They got me out for every race even when we had to take apart the engine twice on the last race day.. We went up to Rocky Mountain Race Park for the last two races on dirt and I was able to capture the win in both main events We will be back there next year forsure..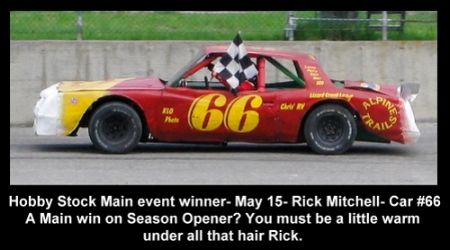 june 19 2005 cannot remember June 25 2005
Qualified badly Cliff blewup his engine finished second in the main July 9 2005
Well finally found the right setup to go fast Qualified the fastest of the day beating Mike #45 by 4 hundreds of a second. I started at the back of the pack and never got by anyone but Mike, he kept throwing fan belts.. In the main I got up to second place but ten laps from the checkered flag, the transmission started slipping. I finished fourth place but the tranny is finished period..The main ran thirty laps under green flag with Terry Bohan leading twenty five of them Nobody could even get close to him. April 28, 2006 Well.. here we are... another race season quickly approaching. I bought a new car this year and will be racing in Cranbrook, and also following the IMCA circuit.
Bridge County's Season Opener
Well tonight I made my IMCA debut. I had alot of help in the pits... I would like to thank The Don, Mike, Darryl, JD, Josh and Cliff.